Land reform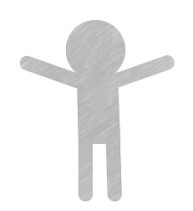 Fundamentals
A. Giloyan
Axiodemy is the value of people. 
Land reform.
Axiodemy is a unity of nature and human beings, where everyone has a birth right for land ownership (a specific area is received from SIC – State Insurance Company) for lease of land for business projects.
The project of land reform contributes to developing the economy, to reclamation of privately owned abandoned and redundant areas stimulates businessmen to self-improvement, development of own business and creation of new workplaces.
SIC's (State Insurance Companies) function within the Axiodemic system and are in the structure of government executive bodies of the country.
SIC is an institution contributing to the implementation of land reform.
State companies of different countries operate according to the general mechanism of functioning of the Axiodemic model of the state.
The state insurance company will undertake responsibilities for distribution of land resources, exchange of allocated private property and organisation of change of areas for execution of business projects (on the basis of mutual approval of citizens of different states and in the presence of permanent registration).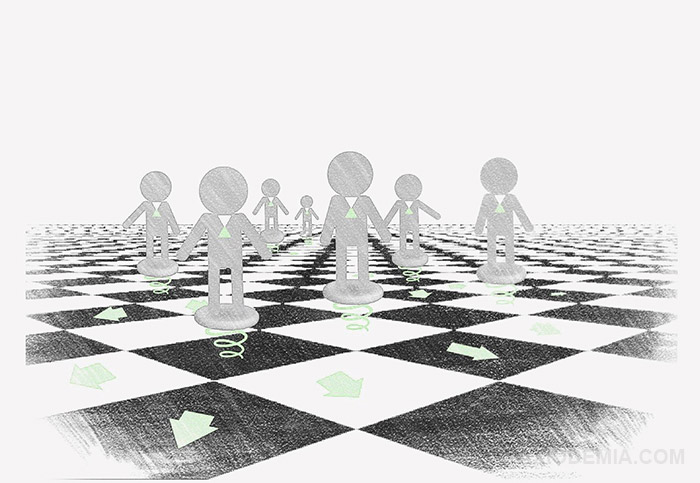 Game "Balance in the big world"
Axiodemy. Lease and business.
SIC lends land to citizens for proper use.
A person leases a land plot from the state for 25 years either through an auction or without it.
Every 3 years a final report is submitted about tenant's activity and used land plot. If his business is unprofitable, the term of lease is reduced by 3 years after each 3-year accounting period.
If his business is profitable the term of lease is "frozen" at the mark when the business started to bring income.
In order to support business initiatives at the initial stage, i.e. from one to three years depending on the form of business, these rules do not apply to them.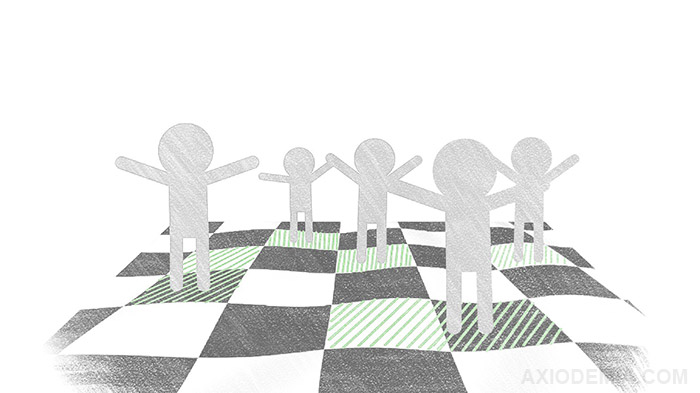 A businessman can sell his business at any stage of development together with a land plot or lend at the price which he will determine himself and the state cannot interfere with this process, because at that moment both the project and the land plot are the property of the businessman:
- If he sells his business at the project stage, the buyer is obliged to implement this project, thus the terms stipulated with SIC for the land plot lease contract are preserved;
- If a businessman sells a functioning business, the buyer can continue this business on the conditions that the tenant previously agreed with SIC.
Axiodemy. Private property.
SIC's (State Insurance Companies) must strictly set the area of land allocated to private property (300 square meters approx. for each citizen who has reached the age of consent), as well as provide people with the primary housing in the form of loans through the banking system (with the specified lowest and highest levels of loans for the construction of housing in accordance with one of the three categories of comfort) at a symbolic interest.
• Housing of the first level of comfort - 780 000 rubles. (2 floors 50 sqm each);
• Housing of the second level of comfort - 1.14 million rubles. (2 floors 59 sqm each);
• Housing of the third level of comfort - 1 400 000 rubles. (2 floors 65 sqm each).
Every person has the right to choose the level of comfort, according to his/her desire and, at the same time, on the basis of his/her financial situation. A person can invest additional money and actualize his/her individual design of home. The main condition is that housing under construction can not, on its appraised value, cost less than the lowest level of loan and must comply with national standards.
The houses will be built with modern technologies using renewable sources of energy, which will make them more efficient and environmentally friendly.
SIC is committed to provide citizens with work that will enable them to gradually repay the loan according to their individual situation.
Such a system of private property organization is designed to provide a beneficial effect on overcoming the crisis in the present and in the future.
The land provided is situated around megacities within a radius of 15-25 kilometers. Every citizen owning land has a possibility to find work in the megacity, including personal business. Thus, socio-economic differences between the centre and the provinces are gradually erased.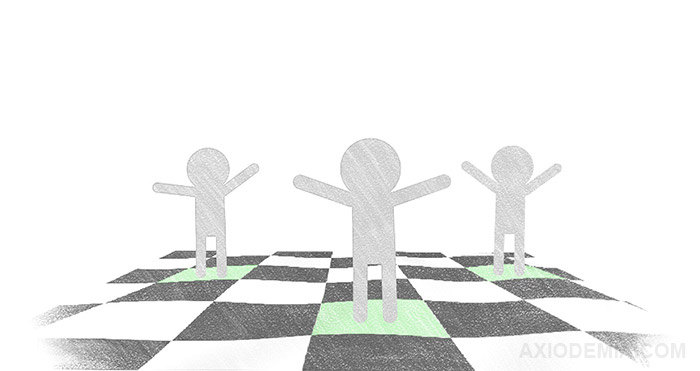 Inside every million-plus city, a certain area must be strictly allocated for the constant provision of residents with agricultural products.
There is a 7-metre-wide state area between land plots, which divides owners' areas and is intended as "green zones". This area cannot be used for personal needs. Apart from that, separate areas are allocated for nursery schools, food stores and medical institutions.
Private property is intended to provide a person with a land plot in the country where he is a citizen, without construction of commercial facilities. It is possible to build a house in this area and keep farm gardening for personal needs, ensuring realization of minimum requirements, which largely contributes to the decrease of financial expenses. Such a principle will enable to maintain equality between state citizens regardless of their financial status.
Axiodemy is the value of people.
The advantages of this presented system of land distribution in Axiodemic states:
- the situation in the society concerning transfer of land plots to private property is stabilizing;
- stratification of the society in terms of land is eliminated, which enables businessmen to fully realise their opportunities;
- a person's psychological tension is relieved, and thereby he gets rid of a sense of dependence. The level of corruption is gradually decreasing, because aspiration for excessive personal wealth will go to the background;
- regular replenishment of state budget is provided, and as a consequence
the rate of inflation reduces.